Nutrition, Health and Lifestyle Consultation

At Newcastle physiotherapy we believe that what you put in to your body is as important as what you do with it. Our dietitian will work with you to provide professional, nutritional advice and weight loss guidance, individually tailored to your personal requirements.
one to one weight loss guidance and support
diet and nutrition analysis
health and lifestyle analysis and advice
dietary planning and monitoring
Our service is ideal for:
clients who have previously not benefited from class based weight loss programmes
clients preferring a more private, bespoke service
clients conscious of minimising their risk of developing cardiovascular diseases or type 2 diabetes
athletes requiring nutritional guidance specific to their sport and competition requirements
proactive clients interested in improving or maintaining their general health and body composition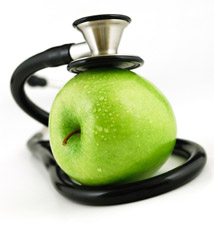 We provide a range of nutritional services and packages, depending on your individual goals. At Newcastle Physiotherapy, our approach to diet and nutrition is to find what works for you. Your initial consultation will last 75-90 minutes and will involve a health and lifestyle assessment which includes anthropometric measurements incorporating height, weight, waist circumference and body composition analysis, where appropriate.  This information, together with a full nutritional analysis of a food diary, will provide a current picture of where you are now and facilitate discussion around your goals and targets. We can then work together to develop a bespoke program that will ensure success is inevitable.
You will receive a detailed programme which will include a nutritional analysis report, a tailored dietary plan, recipes and specific advice around maintaining your plan, for example, when eating out, going on holiday or over the festive season.
Regular reviews will provide ongoing advice and support and allow any necessary updates to be made to ensure your programme is tailored to suit you and your current lifestyle. Support can also be provided in the form of email, telephone and text messaging to assist in maintaining motivation if required.
If you have any other specific requirements please contact us and Rachel will be happy to discuss them with you personally.
Body Composition Analysis
A body composition analysis can provide a snapshot of your health and fitness in less than a minute. By measuring your body fat percentage, hydration levels, muscle mass, basic metabolic rate and visceral fat, we can understand more about your body and use this as a starting point for a customised nutrition plan.
The analysis is non-invasive and is as easy as stepping on a set of scales. The body composition monitor sends an imperceptible current through your body – this process is called Bioelectrical Impedence Analysis. Since muscle, fat, water and bone conduct electricity at different rates, the monitor uses this information, alongside other data, such as your gender and age and height, to provide a series of detailed measurements.
Using the TANITA body composition analyser, we can measure:
body fat percentage
visceral fat
muscle mass
total body water
bone mass
physique rating
basal metabolic rate (BMR)
metabolic age
segmental muscle mass
segmental fat percentage
Our dietitian will take your measurement and explain your results in detail, depending on your health and fitness goals, and you will receive a print-out of your results. Find out more about our TANITA body composition analyser at https://www.scalesmart.com/media/MC780MA_Brochure.pdf
By reviewing changes in your body composition over time, we can monitor your progress and see the impact of any fitness regime or weight loss programme, adjusting your plan accordingly.