Overnight Oats with Peanut Butter and Banana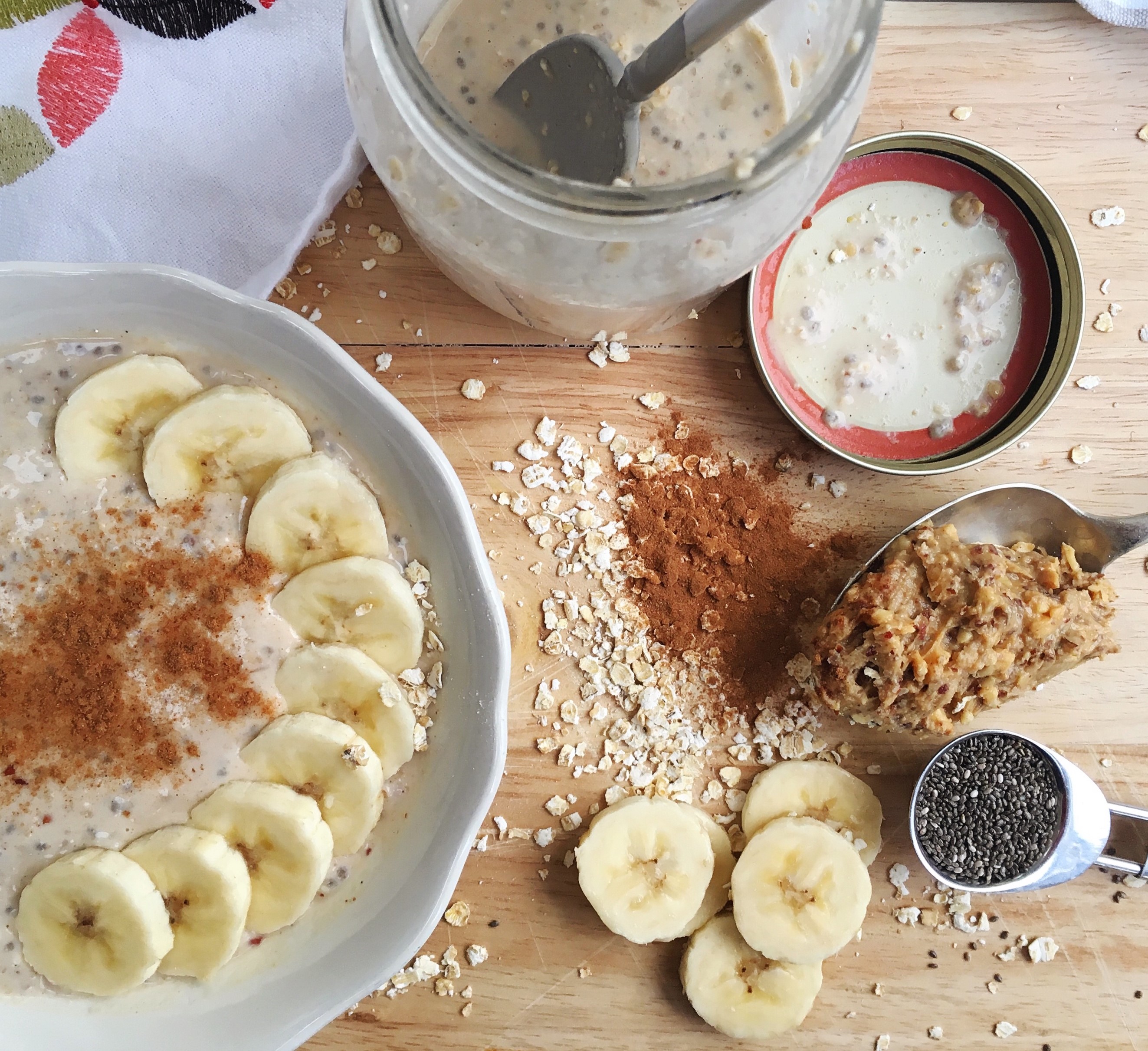 An easy, nutritious, grab 'n' go breakfast, full of fibre, protein and healthy fats
These overnight oats are the perfect solution for frantic, busy mornings, when you need something nutritious to grab quickly on your way to work, or before the madness of the school run.
Packed full of healthy ingredients, they can be made in minutes the night before, and simply placed in the fridge ready for the morning. All you have to do is mix the ingredients together in a bowl or a jar, and the work is done whilst you sleep! This recipe includes two ingredients that always pair well together – banana and peanut butter, which are delicious when combined with the creaminess of the oats.
As well as being easy, convenient and very tasty, these overnight oats provide a range of nutritional benefits. Firstly, wholegrains, such as oats may help to lower the risk of heart disease, type 2 diabetes and colorectal cancer. They also provide a great source of fibre, which keeps our digestive tract healthy, prevents constipation and helps us to feel full. Chia seeds and peanut butter provide healthy fats, and alongside the Greek yoghurt boost the protein content of this breakfast, helping you feel fuller for longer. These are a perfect pre or post workout breakfast, as they provide nearly 18g of protein for muscle recovery.
This recipe is also fodmap-friendly and a great way to boost your fibre intake if you are following a low fodmap diet.
Simply mix the ingredients together in a lidded container or mason jar and refrigerate overnight. Eat straight from the jar for an on-the-go breakfast, or add to a bowl and top with your favourite fruit or nuts. The oats are delicious cold, but can be warmed in the microwave for 20 seconds, if you prefer them hot. They will keep in the fridge for 2-3 days, so make double or triple quantities and have a ready-prepped breakfast for the next few days.
Ingredients
serves 1
½ cup (40g) rolled oats
2 tablespoons (50g) low fat Greek yoghurt
2/3 cup (160mls) almond milk (fortified)
½ (50g) banana, mashed
1 tablespoon (10g) chia seeds
1 tablespoon (20g) peanut butter
¼ teaspoon vanilla essence
½ tablespoon (10g) maple syrup, if desired
Method         
Place all of the ingredients in a mason jar, or clean jam jar. Screw the lid on tightly and shake vigorously until combined. Alternatively, add to a bowl, mix with a fork and cover with cling-film.
Place in the fridge for at least 4 hours, preferably overnight.
Sprinkle with cinnamon and top with your favourite fruit and nuts.
Nutrition Information (per serving)
450 kcals
47g carbohydrate
17.7g protein
19g fat
10.4g fibre
6.4g free sugars
Low fodmap, gluten-free (if using gluten-free oats), vegetarian
Brought to you by Newcastle Physiotherapy