Mint Choc Chip Smoothie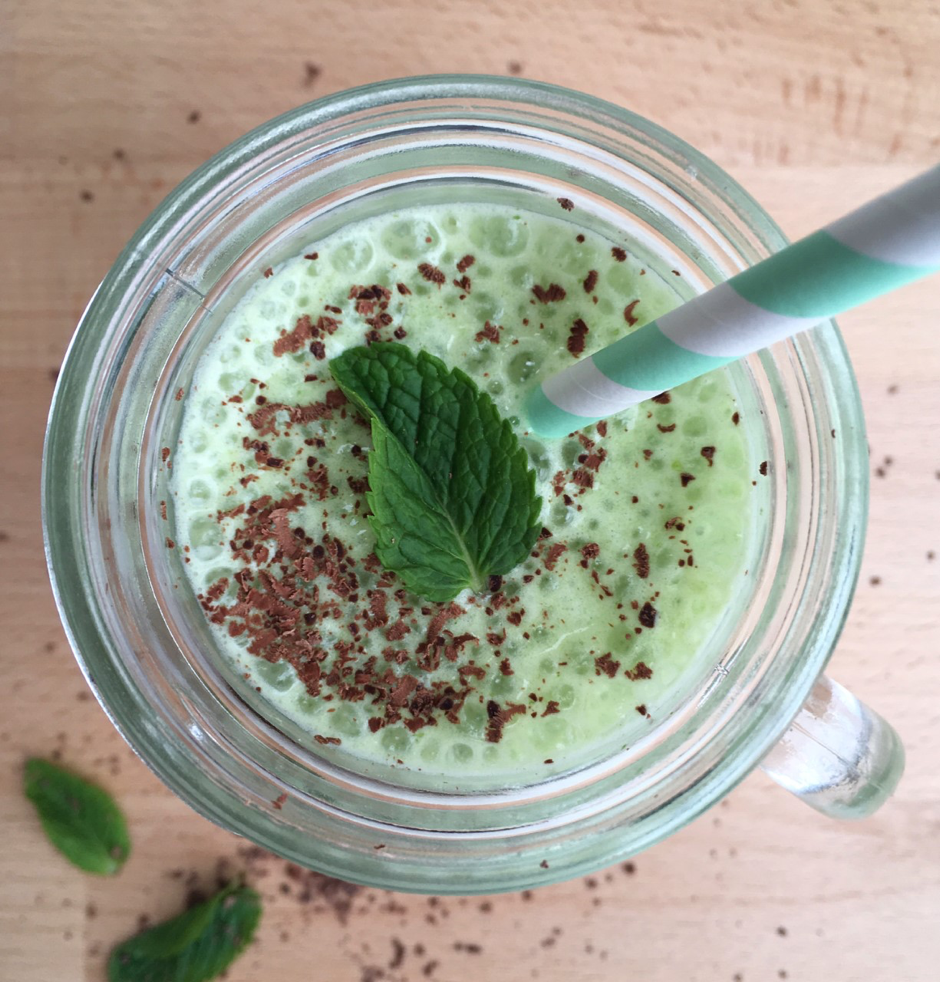 A simple but delicious, creamy smoothie packed with nutrients. Ideal as a healthy breakfast or snack any time you fancy something sweet.
This smoothie is a favourite in our house. My kids love it because they think it tastes like a mint choc chip ice cream! I love it because it is a quick and easy way to get some great nutrients into the whole family. It is so versatile – brilliant before an early morning training session, if you can't stomach anything more substantial, but also great for recovery too, as it will provide hydration, carbohydrate and protein for muscle repair and glycogen repletion.
Spinach is loaded with nutrients. It is a great source of fibre, which helps to prevent constipation, Vitamin A and C, which promote good skin health and immune function, and Vitamin K, essential for blood clotting.  It also contains many other plant compounds, such as lutein and zeaxanthin, for eye health and nitrates for a healthy heart. Spinach is one of the richest dietary sources of quercetin, which helps the body fight infection and inflammation.
Bananas are a good source of potassium. Diets high in potassium have been linked to lower blood pressure. They also contain pectin and resistant starch, fibres which help to regulate blood sugar and provide food for the friendly bacteria in our large intestine.
Greek yoghurt and milk are rich sources of protein, and various vitamins and minerals, such as calcium and phosphorus, for strong bones. They also provide us with vitamin B12 and riboflavin, which are important for red cell production and function of the nervous system and brain.
Recipe
Gluten free; Nut free; Wheat free
Ingredients
½ cup frozen baby spinach (tightly packed)
2 medium (200g) ripe bananas (frozen)
1 cup (250mls) milk
2 tablespoons Greek yoghurt (avoid 0% fat options as these can make the smoothie taste a bit sour) or plain kefir
3 drops peppermint essence (or to taste)
¼ teaspoon vanilla essence (or to taste)
Dark chocolate for topping
Add the ingredients to a blender and whizz until combined and smooth.
Finely grate dark chocolate over the top, if desired.
Serve immediately.
Make sure you use frozen bananas and spinach, if possible. Frozen bananas help to make the texture creamy and frozen spinach makes it cool and refreshing. Great use for any of those overripe bananas you have left on the kitchen bench! Peel them, place them in a zip-lock bag and freeze, so they are ready whenever you need them. 
Nutrition Information
Large serving (500mls)                     Small serving (250mls)
Energy                     407 kcals               203kcals
Protein                   20.2g                       10.1g
Carbs                        55g                            22.5g
Fibre                         2.9g                          1.5g
Calcium                                    410mg                    205mg