Ann-Marie Ballantine (Clinical Specialist)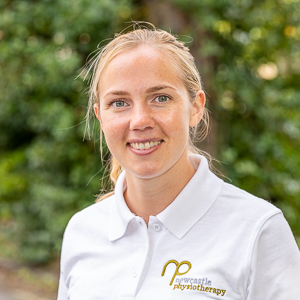 Ann-Marie Ballantine (Clinical Specialist)
Bsc (Hons) Physiotherapy, MCSP, HCPC Reg.
MCSPSM, MAACP, HCPC Reg, Clinical Specialist Physiotherapist
Ann-Marie graduated with BSc (Hons) in Physiotherapy from the University of Liverpool in 2009. Ann-Marie has over 6 years' specialised experience in musculo-skeletal (MSK) Physiotherapy. She initially started her Physiotherapy career at Derby Royal as a rotational physiotherapist gaining experiencing working on the High dependency unit and leading the Physiotherapy care on a post-surgical ward, working in a specialist rehabilitation centre for elderly falls and Parkinson's disease patients followed by MSK outpatients. She then followed her love for sport and passion for educating others by completing a post graduate certificate in education at the University of Birmingham and worked as a teacher of Physical Education in the Midlands.
Ann-Marie later returned to her home town in the North East when an opportunity to advance her MSK Physiotherapy practice arose through an advanced development programme at Connect Health. After 18 months Ann-Marie decided to take a senior role in the NHS to advance her clinical reasoning skills further and has been working at Northumbria NHS for 5 years. This has included experience working in GP practice, MSK outpatients, treating post-operative patients as well as 12 months working in Occupational Health to rehabilitate staff back to their work and their personal life goals. More recently Ann-Marie has been working as a highly specialised Physiotherapist for the past 12 months.
Ann-Marie has previous private practice experience and has worked pitch side for Sunderland Premiership Football Academy. Ann-Marie has a special interest in Basketball rehabilitation, in particular foot and ankle injuries and has spent time working with the GB Women's Basketball team at their camp at the National Basketball Centre earlier this year in preparation for their European Championship campaign. Ann-Marie is always looking to develop her skills in athletic rehabilitation and has recently spent time with Newcastle Falcons Rugby and Leicester Riders Basketball physio teams and has assisted with the fitness screening at the Newcastle Eagles Basketball team.
Ann-Marie has a wide range of skills and has attended various post-graduate courses to give her excellent skills in manual therapy, myofascial release and acupuncture treatment. She is also APPI trained in clinical Pilates. Ann-Marie is a keen sports women and has enjoyed playing golf for the Northumberland County, being the first female to win the Northumberland Junior Spring Open as a youngster. She has a love for music and is a keen salsa dancer and also enjoys playing the drums.
Book into a Pilates class with Ann-Marie @ www.newcastlepilatesstudio.com