Darren Wigg (Clinical Lead)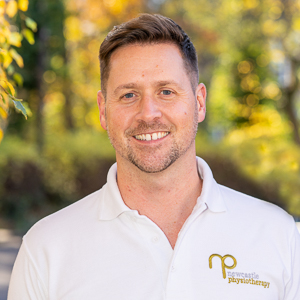 Darren Wigg (Clinical Lead)
Bsc (First Class Hons) Physiotherapy
MCSPSM, MAACP, HCPC Reg
Clinical Lead Physiotherapist and Director
Newcastle Physiotherapy
Darren is our founder, director and clinical lead physiotherapist. He is a former international swimmer, representing Great Britain at the World and European Championships on numerous occasions. After retiring from sport Darren studied Physiotherapy at Northumbria University and graduated with a first class honours degree in 2005. He began his career in the NHS, where he worked for over 2 years, building his general practise skills in a variety of specialist areas, including musculoskeltetal, orthopaedics and pre and post operative rehabilitation, in addition to the neurology and respiratory medicine departments.
Darren made the leap into private practice 6 months after gaining a senior NHS post specialising in musculoskeletal physiotherapy. Darren then worked privately in Sunderland for 3 years treating a large and varied case load. His clients included children and teenagers through to elite athletes of all sports and the elderly. In January 2011, Darren founded Newcastle Physiotherapy and is exceptionally proud of its growing reputation as one of the leading physiotherapy clinics in the North East.
In addition to his work in private practice, Darren enjoys working in a number of other areas. He is currently a member of Great Britain swimming medical team working with both junior and senior, pool and open water teams. 2012 saw the highlight of Darren's sporting career when he represented Team GB at the London Olympic Games as lead physiotherapist of the open water swimming team.
Darren is a firm believer in the benefits of the 'hands on' approach to treatment and has continued to develop his skills at a post graduate level, holding certificates from the McKenzie Institute, who specialise in the mechanical diagnosis and treatment of back and neck pain and the Acupuncture Association of Chartered physiotherapists. In addition Darren has worked alongside leading physiotherapists and medical practitioners in the sporting environment which has enabled him to further develop his assessment, diagnosis and manual therapy skills.
Darren works or has worked for the following organisations on a consultancy basis, providing a variety of services from athlete screening and injury prevention through to coach, athlete and physical instructor workshops:
See Organisations below:
England Golf
www.newcastleswimteam.com
Sedgefield 75 Swimming Club
All Saints College
Tynemouth Swimming Club
Derwentside Swimming Club